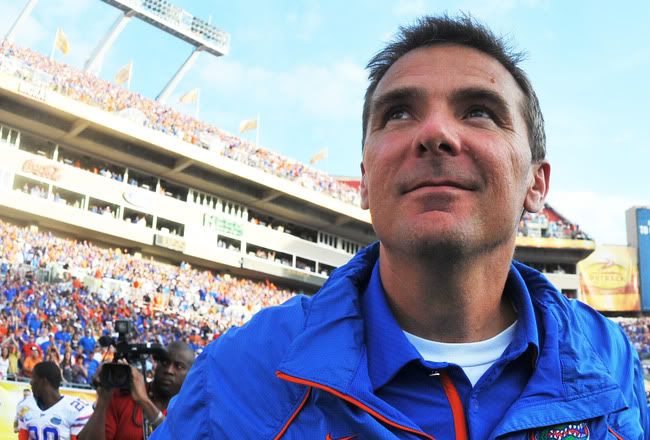 It seems as though current Ohio State, and former Florida Gators, head coach Urban Meyer could have his reputation hurt a little from recent reports.
A report from Sporting News has been released discussing Meyer's methods in coaching and recruiting from his days at Florida. With players saying that for the final two years of Meyer's tenure at Florida "the players had taken complete control of the team," things don't look good for the way Meyer runs his programs.
Meyer was said to have given his star players special treatment among the rest of the team in which players were babied and coddled. Certain players had failed drug test and other issues that were swept under the rug.
One player that got the special treatment from Meyer was Percy Harvin, now a wide receiver for the Minnesota Vikings. During his time at Florida, Harvin had incidents that went unpunished such as sitting down during conditioning drills (running stadium steps) and refusing to continue. He then told the strength and conditioning coaches that "this (expletive) ends now," leading to a conditioning program of playing basketball the very next day.
Harvin also physically attacked wide receivers coach Billy Gonzales (now offensive coordinator at Illinois) when he grabbed the coach by the neck and threw him to the ground.
Now, as the current head coach of Ohio State, Meyer's relentless recruitment of highly-touted athlete Stefon Diggs in February led to Meyer telling the Diggs family that he wouldn't let his son go to Florida due to the negative character issues that the team had in the locker room; character issues created by Meyer.
If anything will come of this is yet to be known, but it does put a spotlight on Coach Meyer and his way of doing things.


By: Brandon Williams
Member of the Football Writers Association of America