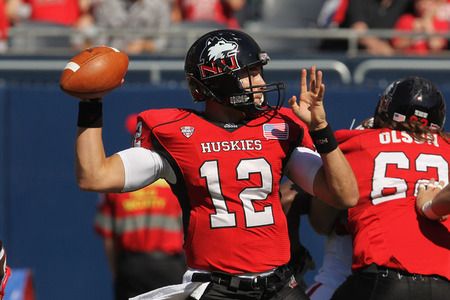 Many times, coming out of a school such as Northern Illinois, players can go unrecognized, but this is not the case for the Huskies quarterback Chandler Harnish.
Harnish has been at NIU all four years of his college career and has made great strides towards becoming a great quarterback that can truly be considered a dual-threat. As a freshman, Harnish threw for 1,528 yards, eight touchdowns and nine interceptions. He added 539 yards rushing and four rushing touchdowns.
Since then, he's only improved on his stats, culminating his college career with a senior season in which he passed for 3,216 yards, 28 touchdowns and just six interceptions. He also rushed for 1,379 yards and 11 touchdowns to help the Northern Illinois Huskies to an 11-3 record and a 38-20 victory in the GODADDY.com Bowl.
Harnish was also lucky enough to display his skills in the East-West Shrine Game on January 21.
For a player like Harnish, the more opportunities to display his skills, the better; which is why it is beneficial to Harnish that he received an invite to participate in the NFL's annual Scouting Combine held in Indianapolis later this month. I was lucky enough to catch up with Chandler as he prepared for the Combine and he granted me an interview. Here's what he had to say to us here at Sports Reviews.



---
Sports Reviews
: What led you to NIU? What was the draw that took you that route?
Chandler Harnish: NIU was the first school to really recruit me hard. They were the first to offer me a scholarship and showed that they really wanted me, so it was a very easy decision to choose NIU. Also, I wanted to get far enough away from the pressures of the hometown and be myself.
SR: You were considered a 'dual-threat' quarterback coming out of high school, but that term usually gives people a common misconception. Would you agree with that term or would you say you're a quarterback that can run?
Harnish: I think the term can be overused at times, but in my case I feel I am a "real" dual threat quarterback because through my entire career, I have been able to run the ball and have had an offense designed around my athletic ability (ex. zone read, QB power, sprint out passing, etc..)
SR: What has the whole college experience been like for you; what has it taught you?
Harnish: The experience has been absolutely awesome and I wouldn't trade it in for anything. I've had some ups and downs early on, but ended my last two seasons on a very high note. Also, I had a great educational experience at the Barsema College of Business and a great social experience hanging with all my friends. I have learned many things — hard work every day leads to success. There is no such thing as a day off. You either get better or get worse. Another thing I learned was that if you want to be a great leader you cannot be everyone's friend all the time. You have to be willing to step on some toes, but do it in a respectful way because if you lose your teammate's and coaches' respect, you have nothing.
SR: You played in the East vs. West Shrine Game under Brad Childress, right? What was that experience like knowing the offense he runs and how well some people would project you into that style of offense?
Harnish: Yes, Brad was my coach and Craig Johnson was my quarterbacks coach. The experience was absolutely invaluable to me because I was finally able to see how a West Coast Offense is ran and I was able to see how the business of the NFL is conducted. There were so many people that I got to meet and have the fortune to be coached by. I think those assets will take me a long way. I think people liked the way I was able to drop back and make the throws and decisions that are necessary for a quarterback to make. There is still some work to do, but I'm excited and can't wait to continue to learn and get better every day.
SR: How do you feel you performed in the Shrine game?
Harnish: I felt I played very well in the game. Nearly every throw was right on the money, other than one. The one I got a little greedy on got intercepted so I need to be smarter with the football, but looking back at my college stats it's obvious to see that, that is not a reoccurring theme. I also felt very confident leading the team and was fortunate enough to be voted Team Captain and a starter for the game.
SR: What's one of the things about the game that stood out most, something that the coaches taught you or teammates?
Harnish: You either get worse or get better, never staying the same so this taught me to work hard every single day.
SR: What size did you measure in at for the Shrine Game?
Harnish: 6'1.5″ and 219 lbs.
SR: You did get an invite to the combine, which is very exciting. Do you plan on doing all of the drills?
Harnish: Thanks, and yes, I plan on doing everything.
SR: Where do you compare yourself to the rest of the quarterback class? What do you feel separates you from them?
Harnish: I feel that I match up with any other QB out there, but the one thing that holds me back is my size. I feel I can overcome that with my athletic play and leadership intangibles.
SR: Which team in the NFL did you grow up watching and how would it feel to be drafted by them?
Harnish: Being an Indiana kid, I always loved the Colts with Jim Harbaugh and now with Peyton Manning. It would be an unbelievable feeling because all my friends and family root for the Colts.
SR: What can fans expect from you in the NFL?
Harnish: they can expect a fiery leader who refuses to lose and can make many plays with my feet. I can also surprise people with my throwing ability.



---
Through ups and downs, Harnish has found a way to persevere and embrace the role of the underdog. Coming out of a smaller school and making an impact in the NFL is never an easy feat, but with the mindset that Harnish possesses of always working hard to get better, he's given himself as good a chance as any. Watch along as Harnish takes his path to the NFL Draft.
By: Brandon Williams
Member of the Football Writers Association of America